Latest posts by Erin Jamieson
(see all)
People travel far and wide for the best cup of cappuccino, but sometimes the best way to enjoy this coveted coffee drink is in the comfort of your own home with a good coffee maker–and by knowing how to choose the best cappuccino K Cups on the market, you can do just that. 
But in order to understand just what Keurig cappuccino pods to select and how, let's take a look at what makes a good cappuccino, and how to know if you're getting the most bang for your buck.
Bottom Line Upfront Best Cappuccino K-Cups
1. Grove Square French Vanilla Cappuccino: Best Overall
2. GEVALIA Cappuccino K-CUP Pods and Froth Packets: Best Frothy
3. Indulgio Cappuccino Sweet and Salty Caramel: Best Sweet and Salty Notes
4. Ignitor Cappuccino French Vanilla: Best Vanilla Flavor
5. LoveSome Hazelnut Cappuccino K-Cups: Best Hazelnut Flavor
6. Indulgio Vanilla Frosted Cinnamon Bun Cappuccino K cups: Best Festive Flavor
7. 24 Ct. Solimo Cappuccino K-Cup Pods, Caramel Cappuccino Flavored: Most Affordable
8. Smart Sips, Irish Cream Cappuccino: Best Irish Cream Flavor
40-count cups Portion Packs for Keurig K-cup Brewers | Amazon
These Grove Square cups are ideal for enjoying at any time of the day, whether you're getting your day started off right or looking for a midday pick-me-up. It is packed with flavor and comes in individually packaged containers to promote convenient storage and use.
Buy at Amazon.com
We earn a commission if you click this link and make a purchase at no additional cost to you.
06/01/2023 12:12 am GMT
Just how popular are cappuccinos?
The coffee itself, of course, is one of the most widely consumed beverages both nationally and internationally. Each year, over 150 million 60kg bags of coffee were consumed worldwide.
In the United States, the average American drinks around three cups of coffee a day, and almost a third of Americans start their day with a cup of coffee before they do anything else.
As far as cappuccinos go, their popularity has waxed and waned over the years in the United States. The trend is likely part of mass marketing, after the drink has been historically, and continues to be, exceedingly popular in Europe. The cappuccino is a specialty drink that has flourished in cafes focused on producing quality and artisan coffee. As coffee becomes increasingly not just a drink, but an occasion to socialize, it gained popularity.
However, it still remains more popular in Europe, where recently new bars have sprung up in London, especially catering to those in search of the best cappuccino available. Just over six pounds will buy you a specialty cappuccino, part of the emerging "coffee boutique" trend in Europe, where consumers concentrate to enjoy high-quality drinks and good company.
Still, in the United States, the drink is more commonly found at specialty coffee shops or, now, thanks to cappuccino k cups and keurig cappuccino pods, enjoyed at home.
What is a cappuccino?
Cappuccino is one of those drinks that you likely have heard of but may not know what it actually is. A cappuccino is a specialty drink based on quality espresso and is often confused with the latte.
A cappuccino, like a latte, is made with shots of espresso and steamed milk for a mix of creamy and bitter, rich flavors. However, a cappuccino is made differently and has a very different ratio of espresso to milk. Unlike its American-born cousin, the cappuccino more heavily highlights rich espresso; a latte is milder and has just a touch of that signature coffee flavor.
A typical cappuccino is made with one part espresso, one part steamed milk, and one part foamed milk, for a creamy but powerful drink. While coffee can be used in a pinch, rich espresso is best for optimal results. Cappuccinos, like lattes, are typically prepared using some sort of espresso machine.
Another reason why it is more popular in Europe perhaps is size: while Americans are often accustomed to large coffee drinks, a typical cappuccino is a more modest serving size, with five to six ounces of rich espresso and steamed milk.
In fact, a cappuccino that is produced in large sizes, such as twelve ounces or more, might be suspect as a latte instead of a cappuccino. You would be able to tell by the lighter more diluted tint and the more creamy, more mild flavor.
There is also a process of making an authentic, artisan cappuccino:
Milk is steamed at about 65 to 70 degrees Fahrenheit until it doubles in volume
The pitcher is tapped in order to compress the foam
One to two shots of rich, strong espresso is prepared and poured at the bottom of the serving cup
Steamed milk is poured, starting at the center and moving in a circle towards the outer edge.
The drink is topped with a soft layer of foam. Unlike the latte, this is flatter, less thick foam.
What's the advantage to making a cappuccino with

cappuccino k cups

?
And it's not as simple as rising inflation. One thing truly pushes the price of coffee further up is that the production of coffee beans has decreased. After five consecutive years of growth, the production of Columbian coffee, in particular, was projected to decrease significantly.
Even as early as 2015, scientists were sounding the alarm that climate change would impact coffee bean production, with changing temperatures set to cause harm to coffee beans in Latin America in partaking a cappuccino at home, first of all, can save you some money. The price of coffee is on the rise if you already thought it was expensive. Last June, Starbucks announced an increase in the price of all their coffee drinks, with an average increase of ten to twenty cents each.
But before you boycott Starbucks, know this is part of a continuing trend. Coffee shops across the nation have raised prices on all of their drinks, from signature brews to specialties like cappuccino, with as much as a thirty-five percent decrease in coming years for certain varieties of coffee.
With coffee prices only set to increase in the foreseeable future, you may continue to spend a little more on coffee no matter what, but you're bound to save more and more drinking it at home.
Ground coffee runs as little as $5 to $12 for around thirty servings. At a coffee shop, even for just a normal cup of brewed coffee, you'll pay over two dollars, and sometimes as much as three or four per cup. And if you're looking at a cappuccino, the savings likely add up even more.
If saving money isn't incentive enough, consider this: making a cappuccino at home can allow you to make it exactly the way you want. Plus, it's more convenient. While you may not get the same results as a specialty coffee shop, it is a nice compromise and way to enjoy a cup of specialty coffee, even if you are on a tighter schedule and budget.
Is there a shortcut to a cappuccino?
While many coffee experts might say you can only get a quality cappuccino using a traditional process, the fact of the matter is that not everyone has the time, money, or skills required for the traditional process.
That's where Keurig cappuccino pods come in.
While you can certainly invest in an espresso machine and milk frother and teach yourself how to make a traditional cappuccino, let's face it: that takes both time and money. Plus, if you only like a cappuccino every once in a while, it might simply not be practical to make such an investment.
K-Cups, of course, is very popular in general. K-Cups, which fit the popular automated single-serve Keurig machines, have exploded in popularity and continue to be popular for all kinds of coffee drinkers.
In case you didn't know or have never owned a Keurig before, K Cups refers to the pod-shaped individual servings of ground coffee, typically a pure paper filter. While pods and K Cups are sometimes confused with one another, only K Cups will work in a Keurig. In a K Cup, coffee or tea is packaged in a plastic cup with a foil top and filter that keeps the coffee intact.
During the brewing process, needles puncture the top and bottom. Hot water flows over and extracts the coffee from the bottom to produce a proportioned cup.
And now there are K-Cups you can buy to produce an easy, shortcut cappuccino right at home.
Is a cappuccino K-Cup a real cappuccino?
In short no. If authenticity is the one concern, then you may be disappointed: there is only so much you can do in terms of shortcuts for a specialty drink. Instead, these K-Cups are meant to embody the general flavor and aroma of a cappuccino.
Of course, if you do want a special touch there is no reason you can't brew a high-quality K-Cup and top it with some frothed milk for a special touch–and that will still save you money and time.
Also, K-Cups are best for anyone who wants a little sweetness in their cup. Even the very lightly flavored or pretty plain varieties contain some form of sweetener typically, with both regular sugar and sugar-free sweeteners.
Do I have to buy a K-Cup from Keurig? What about other brands?
It's not as simple as a yes or no answer. In the past, there have been countless off-brand and alternative brand K-Cups you could purchase to save money for your Keurig machine. These brands not only offered more flavors but also at lower prices, making them highly popular among those not brand loyal. There have even been cups produced for more eco-friendly choices, though K cups are biodegradable if you separate the pod's components.
However, there is an exception to these working: mostly in the new Keurig 2.0 DMR models. These models don't accept other pods, and only accept a certain line of K-Cups. While there is potentially a technical way to get around this, we don't suggest trying alternatives for those machines.
Do look for them to contain milk. Most of the highest quality cappuccino K Cups will contain real milk in some form for that creamy flavor you want from a cappuccino.
But those machines aside, feel free to explore other brands, as long as they state they will work in the type of machine you have. If you like the brand name K-Cups, there are options for a cappuccino.
How do I find the best cappuccino K-Cups?
What the best cappuccino K-Cup is to you will differ from the next person, but you'll want to rely on customer reviews, as well as the type and blend of coffee used. Roast date is important to keep in mind when you purchase as well; while K-Cups are designed to keep coffee compact and tightly sealed, it still won't be quite as fresh if it was roasted too long ago.
Also, keep in mind personal preferences: a dark roast will be more robust, with a deeper flavor, than lighter roasts. However, since most versions are flavored, light roasts work well for a smoother and sweeter version. Finally, you'll want to consider flavors. If you want a little extra something, flavored coffee can add a light and sweet note. But also keep in mind that flavored coffee may mask the darker cappuccino flavor.
Taking all of these factors into consideration, we've compiled a list of some of the best cappuccino K-Cups and K-Cup alternatives you can purchase today.
Made by Grove Square Coffee, this pack of forty single-serve cups averaged five stars out of twenty-four customer reviews and costs just under twenty-five dollars, and work in most Keurig machines. The French Vanilla flavor adds just a touch of sweetness and lift and would pair wonderfully with a layer of steamed milk.
It's also freshly brewed coffee, which should mean that it's packaged soon after being brewed. If you want an even cheaper alternative with a slightly different, but still classic flavor, you can also check out their caramel cappuccino variety.
Both are made with sucralose or non-calorie sweetener, so it's safe for diabetics but not a good choice if you don't like the taste. The flavor in the caramel variety is multidimensional, with notes of vanilla, caramel, and hazelnut and the aroma of the coffee itself. The same company also offers a highly rated hazelnut variety.
40-count cups Portion Packs for Keurig K-cup Brewers | Amazon
These Grove Square cups are ideal for enjoying at any time of the day, whether you're getting your day started off right or looking for a midday pick-me-up. It is packed with flavor and comes in individually packaged containers to promote convenient storage and use.
Buy at Amazon.com
We earn a commission if you click this link and make a purchase at no additional cost to you.
06/01/2023 12:12 am GMT
Gevalia cappuccino K-Cups are great if you want something that comes a little closer to a specialty drink, in part because they come with "froth packs", which are made from real milk and are used to top your drinks. Espresso is combined with a mildly sweet flavor.
This is a clean, lightly sweetened version if you don't want a flavored cappuccino and still want some of that creamy froth. Plus, it comes highly recommended, with an average of four and a half star rating out of seventy-seven customer reviews. It is a bit more expensive, with a 36 count pack costing just under $45 on Amazon.
Looking for a touch of sweet and salty notes in a cappuccino? These highly rated K-Cups purportedly even work in the 2.0 version of the Keurig and are described as a "decadent caramel:" flavor with a "creamy and sweet" finish. The salt adds just the right touch to marry the flavors of the coffee itself and the light caramel flavor. A 42 count pack comes in at just under $40.
Indulgio Cappuccino Sweet and Salty Caramel | Amazon
Breathe in the aroma. Revel in the indulgence. Now imagine recapturing that feeling at home with Indulgio - the convenient coffeehouse- quality beverages that make it possible to enjoy your own wonderfully indulgent moment every day. 
Buy at Amazon.com
We earn a commission if you click this link and make a purchase at no additional cost to you.
06/01/2023 12:12 am GMT
Ignitor Cappuccino K-Cups work with the original and 2.0 brewers reportedly and are rated an average of five stars–though there are only six ratings. Nonetheless, this classic vanilla flavor adds a smooth and creamy flavor to your cappuccino and is also Kosher certified.  You can get fifty-six pods for just under $45.
These K-Cups by LoveSome offer a hazelnut flavored cappuccino for a mild and pleasant taste. They are made with 100 percent Arabica coffee, and enough sweetness to bring out the aroma of the hazelnut flavor.
Since they do contain sugar, these are not suitable for diabetics as much but maybe welcome to anyone looking for a sweet version with the taste of artificial sugars, or for anyone who has trouble digesting sugar alcohols. Thirteen customers gave these cups a four and a half star rating, and it's currently only $5 for 12 pods.
LoveSome Hazelnut Cappuccino K-Cup | Amazon
Now you can indulge in this delightful coffee shop treat right at home, anytime. Refreshing and delicious with an irresistible aroma and sweet, buttery hazelnut overtones.
Buy at Amazon.com
We earn a commission if you click this link and make a purchase at no additional cost to you.
Indulgio offers a rather festive flavor, but there's no reason you can't enjoy this year long. If you want a cappuccino bursting with flavor and aroma, look for one that incorporates cinnamon. Cinnamon, a naturally sweet spice, adds the perfect note to coffee and marries the vanilla flavors. Forty-three customers awarded this a four-star rating. A 12 count pack runs you a little over $10.
These Amazon brand K Cups add caramel flavor with coffee that's meant to remind you of Green Mountain coffee. Tasters described it as a light roast with a subtle, smooth, and creamy cappuccino flavor. It earned an average of four stars out of nearly three hundred customer reviews, and a pack is more affordable than some, coming in at just over $11.
Solimo Cappuccino Single Serve Cups | Amazon
Solimo Caramel Cappuccino Flavored single-serve pods brew a delicious, convenient café experience in every cup. Compatible with 1.0 and 2.0 k-cup brewers, make your cup to order with Solimo cappuccino pods.
Buy at Amazon.com
We earn a commission if you click this link and make a purchase at no additional cost to you.
Our final pick is something truly special, pairing cappuccino flavor and aroma with a touch of Irish Cream. Despite the addition of Irish whiskey, each cup is under 100 calories per serving, for a smooth, rich, and lightly sweetened drink. It's also certified Kosher and Gluten-Free.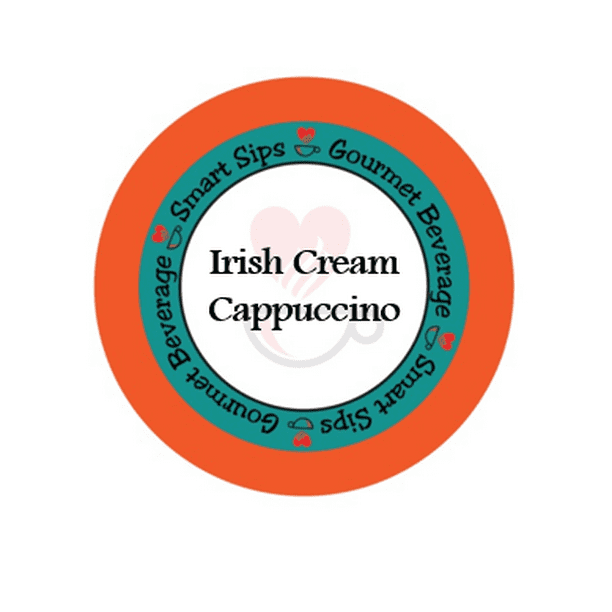 With over ninety customer reviews and an average rating of four stars, this picks rounds out our list of best cappuccino K-Cups. However, you may have to do a little more hunting for it: currently, there is only one seller on Amazon, so you may be better served to look on the company's website.
06/01/2023 12:07 am GMT
Further read: